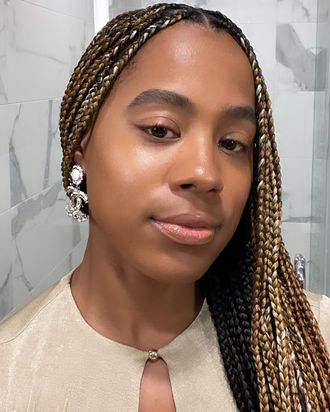 At 6 years old, Chanel Tyler started giving her mom fashion advice. "My mom used to always do a mini fashion show for me before she was getting ready to go out and ask for advice," says Tyler, and her feedback was very honest. "I don't like that color" or "That doesn't go together, Mom," she recollects saying. Growing up in Chicago, shopping became a hobby for her after watching her mother. She was preparing herself for what her life would be today. It's in her DNA—her name is literally Chanel.
Now, Tyler is the global lead for beauty creator partnerships at YouTube and works alongside all our favorite content creators. In addition to her nine-to-five, she's also a content creator herself and has built an online community that buys everything she says, whether it's a serum that she promises will make their skin glow or a Bottega Veneta sandal that she's found for half off. She's known as "the glow expert" and calls her followers the #GlowCommunity. While her online community learns from her every day, she admits that they've also taught her important lessons along the way. The No. 1 lesson she's learned? That it's okay not to be perfect. "When it comes to skin care, we shouldn't be striving for perfection or flawlessness; we should be seeking health," she says."They've taught me that it's okay not to be perfect and that there are so many commonalities in what we're experiencing." She learned this even more after becoming a mom to her daughter, Madison, 1. Tyler had a moment where she asked her followers, "Can we just be a little real over here?" And she's never looked back.
When it comes to beauty, she's like an encyclopedia. She amassed her knowledge over the years while working in the beauty industry and climbing the corporate ladder. At YouTube she's had huge career milestones, like executive producing its beauty festival. Before her current role, she spent almost three years at beauty conglomerate Estée Lauder, where she did global marketing for luxury brands like La Mer. Ahead, the glow expert gets into the products she keeps on rotation in her routine.
The first thing Tyler does when she wakes up from her beauty sleep is drink room-temperature water with a slice of lemon. And yes, she calls it beauty sleep because of the benefits it brings for renewing and repairing skin. Before she wakes her daughter up at 6, it's time for her to indulge in her routine. She starts with Eadem's hydrating cleansing balm, a tiger grass–infused formula that hydrates and unclogs pores.
Next, she goes in with an essence: "I'm really into layering products, especially in the winter, because Chicago is hella dry." She uses Naturium's hyaluronic acid essence that plumps the skin while boosting moisture.
Tyler doesn't stop there with hyaluronic acid. She typically follows up an essence with Caudalie's firming serum, which she loves because it's loaded with hyaluronic acid. It's also formulated with resveratrol, which is known to firm and lift the skin. This serum will leave your complexion smoother than you found it, and layering hydrating products is what gives this glow expert her radiance.
Her next stop is Summer Fridays's vitamin-C serum. It reduces the appearance of dark spots while visibly brightening skin. This product is also made with niacinamide, the holy-grail ingredient for an even skin tone.
Next on her list is an eye cream, a product that she knows is a tough one to show efficacy in because under-eye concerns are often genetic. But she loves REN's rich eye cream because of the tiny pearlescent particles that visibly brighten her under-eye area while simultaneously adding moisture.
To finish off, she's been using Allies of Skin's recovery cream balm because of how parched her skin has been in Chicago's cold weather. The moisturizer is made with ceramides and proteins that promote skin recovery and improve the complexion's appearance.
What Tyler never forgets to pick up is her SPF. She always applies Supergoop's glow stick, a cult favorite.
At night, she incorporates a few more products. A hero choice in her evening routine that she's been restocking for the past seven years is Vintner's Daughter's active botanical serum, a facial oil blended with 22 oils. It restores and revitalizes the skin. Tyler loves the anti-aging properties but also how much moisture and stability it brings to the texture of her skin. "I started using the product when I was in my late 20s; now I'm in my upper 30s and my skin is changing. It's getting looser and not as tight as it used to be, I'm seeing lines in places I didn't have before, but this product helps me tackle everything at once."
When it comes to her next-level skin glow, there are two nonnegotiables for Tyler: hydration and protection. "If you want to have glowing skin, you need to keep your skin hydrated. Hydrated skin is going to be buoyant and light reflective," she says. Not only does luminous skin look good, but maintaining a hydrated complexion keeps the skin stable, which leads to less breakouts and hyperpigmentation, especially for women of color. Anything that dulls luminosity is a no-no for Tyler, so she always urges her community to hydrate and protect, which means wearing sunscreen even on the cloudiest day of the year.
Whether she's traveling for work or headed to a luxurious vacation with her family, she's no stranger to an airport. This also means that she's no stranger to severe skin dryness from flying so frequently. Maintaining a hydrated complexion is of the utmost importance to her, so the first thing she does when she lands is lather her face in La Mer's Crème de la Mer Moisturizer and U Beauty's Super Hydrator, a serum made to deeply penetrate the skin and hydrate the most dehydrated skin.
After becoming a mom a little over a year ago, Tyler didn't expect how hard it was going to be and how much of her old self she'd be giving up. "You become a mother and your identity kind of changes; it morphs into this new thing, and there's a grieving process that you have to go through because you're letting go of the person in some elements that you were before and a bit of loneliness happens in the process," she shares. She's figuring out her new identity and loving on her baby girl in the process. She looks forward to teaching her daughter healthy habits, like enjoying stillness and taking baths, while also wanting her to be active and carefree, the practices that Tyler really values.
One of her 2023 goals is to get better at taking care of herself: "I'm very bad at self-care; everything gets prioritized over that, but I'm being more intentional about reserving space for myself." Tyler has committed to doing something wellness-centric for herself twice a month, because while she may take 10 to 20 minutes every morning and night to go through her skin-care routine, she acknowledges it's just not enough. She poses the question to herself: What am I doing to actually de-stress, ground myself, and find some sort of peace? That's the missing part, and she's committed to figuring it out — all while helping others do the same.
Tyler saw a gap in how women of color were being valued in the beauty industry, specifically in the skin-care world. She approaches and communicates with her community like they're her girlfriends. It's where realness, vulnerability, education, and inspiration meet. Her advice for building a loyal and solid community? "Don't make it about money, make it about the people who you're trying to thrive with. Lead with positivity and honesty while being vulnerable and transparent. Ask the community what they want and what they need, and allow them to take up space in your life."