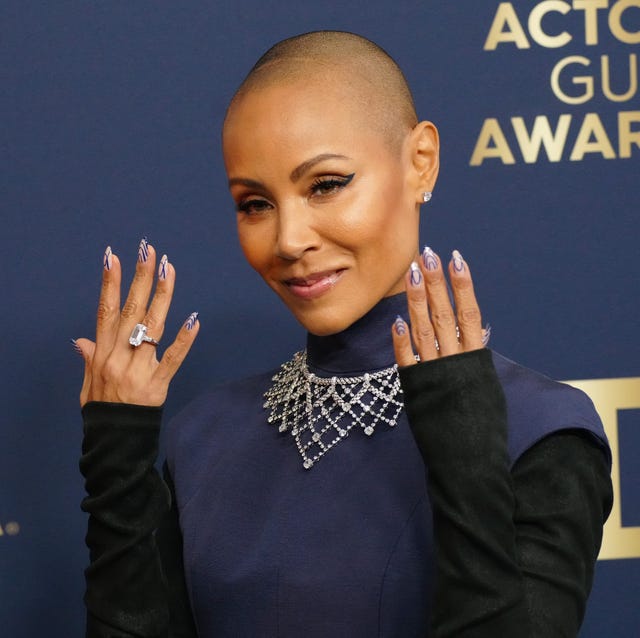 Jeff KravitzGetty Images
Losing your hair can be pretty devastating, and if it's an experience that you know all too well, you're not alone. Hair loss is more common than you think, and it doesn't discriminate or target specific people—in fact, a 2007 study on female pattern hair loss once estimated that around 55 percent of women will experience hair loss at some point in their lifetime.
Of course, why one loses their hair can't always be narrowed down to just one cause, though stress, diet, and various forms of alopecia often top the list of culprits, as does postpartum hair loss and side effects from COVID-19. "Almost every woman eventually develops some degree of female pattern hair loss," explains a recent report from Harvard Medical School. "It can start any time after the onset of puberty, but women tend to first notice it around menopause, when hair loss typically increases."
Hair loss is so common that even some of the celebrities you know and love have experienced it, and thankfully for us, many of them have been very open about it. Stars like Khloé Kardashian, Jada Pinkett Smith, and Viola Davis have all spoken candidly about their struggles with hair loss, from how their thinning strands caught them by surprise to how it affected their overall confidence.
Ahead, see what 12 celebrities have said about their experiences with hair loss.
Advertisement – Continue Reading Below
1
Rep. Ayanna Pressley
In a powerful interview with The Root in 2020, Massachusetts Rep. Ayanna Pressley opened up about living with alopecia while revealing that she had gone completely bald.
In previous years, the congresswoman wore Senegalese twists, which later became synonymous with her image. She explained in a viral video that her decision to reveal her hair loss is something she felt she owed to the thousands of women who would regularly ask her about the style.
"I want to be freed from the secret and the shame that that secret carries with it," Pressley said.
2
Jada Pinkett Smith
In a recent video shared to Instagram, the 50-year-old Girls Trip star gave fans an update on her experience with alopecia, though she first opened up about losing her hair in a 2018 episode of Red Table Talk.
"It was terrifying when it first started," she said. "I was in the shower one day and had just handfuls of hair in my hands and I was just like, 'Oh my god, am I going bald?'"
Over the summer, Pinkett Smith made the decision to shave her head thanks to some nudging from daughter, Willow Smith.
"Willow made me do it because it was time to let go, BUT…my 50s are 'bout to be divinely lit with this shed," she captioned a photo of the cut on Instagram.
3
Khloé Kardashian
After contracting COVID-19 in March 2020, Khloé Kardashian admitted to losing "a great deal of my hair."
"It happened in chunks, and it was like two or three weeks after I had COVID," she recalled in an interview with Refinery 29. "I was really bummed—you don't feel good about yourself."
Since then, she's focused on making lifestyle changes to get her hair back to its thick and full state.
4
Viola Davis
Viola Davis once recalled experiencing hair loss from alopecia at 28 years old in an interview with Vulture. "I woke up one day, and it looked like I had a Mohawk. Big splash of bald on the top of my head," the actress said.
The sudden loss of her hair made Davis self-conscious. "I am telling you, I have spent so much of my life not feeling comfortable in my skin. I am just so not there anymore," she explained. For years, she hid behind wigs and never showed her natural hair. "It was a crutch, not an enhancement," she said. "I was so desperate for people to think that I was beautiful. I had to be liberated from that [feeling] to a certain extent."
5
Naomi Campbell
Even supermodels have hair loss struggles like the rest of us, and Naomi Campbell isn't an exception. In an interview with the Evening Standard, Campbell explained that years of hairstyling in fashion shows and campaigns left her with bald spots. The model also mentioned that wearing extensions ultimately wreaked havoc on her scalp.
"I do take more care of my hair now, because I lost all of it with extensions," she said. "I am more careful, and I do different things."
6
Alyssa Milano
Alyssa Milano has been very vocal about her hair loss caused by the stress her body endured after contracting COVID-19. She shared an Instagram video speaking about her experience.
"Thought I'd show you what COVID-19 does to your hair. Please take this seriously," Milano wrote in the caption as chunks of hair fell from her head while she brushed it. "One brushing, this is my hair loss," she said in the short video.
7
Tyra Banks
In an interview with The Wall Street Journal, the former model and Dancing With the Stars host disclosed that at one point in 2011 while writing her book Modelland, she began to experience hair loss from all of the stress. "How can I say this without tearing up? I got a little alopecia from the stress," she said.
8
Kristin Davis
It's hard to miss Kristin Davis' luscious hair flowing through every episode of Sex and the City. But, almost immediately after closing filming on the fan-favorite show, Davis started to notice her strands falling out.
"My hair just was not what it used to be. It was very fine, like it had gone away, there just was hardly any hair there," Davis divulged to WWD.
At first, the actress didn't pay too much attention to her thinning hair, but then realized she needed a solution. "It's always been not quite that easy, but because I had a lot of hair, the professionals could help me make it look nice," she said. "It's not like I woke up and I had Charlotte hair."
Davis became an ambassador for Volaire hair volumizing products after being introduced to them by a hairstylist.
9
Keira Knightley
Keira Knightley colored her hair for years without experiencing any side effects—but it eventually caught up to her. "I have dyed my hair virtually every color imaginable for different films," she told InStyle UK. "It got so bad that my hair literally began to fall out of my head!"
Embarrassed by the hair loss, Knightley wore wigs to conceal her changing hair for five years.
10
Christina Milian
In an interview with PEOPLE, Christina Milian spoke about how her hair loss diminished her confidence. "I have always taken pride in not being the girl that leaves hair in the shower. Like, you're not going to find my hair all over the soap," she said. "Well, I became that girl."
Milian continued, "I had times where I wanted to cry because I wasn't sure if I'd ever have my hair grow back again." The singer had experienced post-partum hair loss, and later began using the Nioxin System Kit 5 that strengthens and thickens hair.
11
Rosie O'Donnell
In a Twitter post from 2016, Rosie O'Donnell revealed that experiencing hair loss due to aging is inevitable. "Male pattern baldness … aging is fun," she wrote.
12
Ricki Lake
In an Instagram post from 2020, the Hairspray star opened up about losing her hair.
"I have been struggling with hair loss for most of my adult life," she caption a series of photos of her with short hair. "It has been debilitating, embarrassing, painful, scary, depressing, lonely, all the things."
The star explained that she had tried everything to offset her hair from falling out—from wigs, extensions, to even steroid shots—but when nothing worked, she decided to shave her head and give up on her hair ever growing back.
Later, after being introduced to a line of hair growth-inducing products via a hairstylist, Lake finally began to see results. "It was unbelievable. I was like, 'This is working, and it's so easy.' It's all-natural, and it's not toxic," she told WH in 2021.
This content is created and maintained by a third party, and imported onto this page to help users provide their email addresses. You may be able to find more information about this and similar content at piano.io
Advertisement – Continue Reading Below