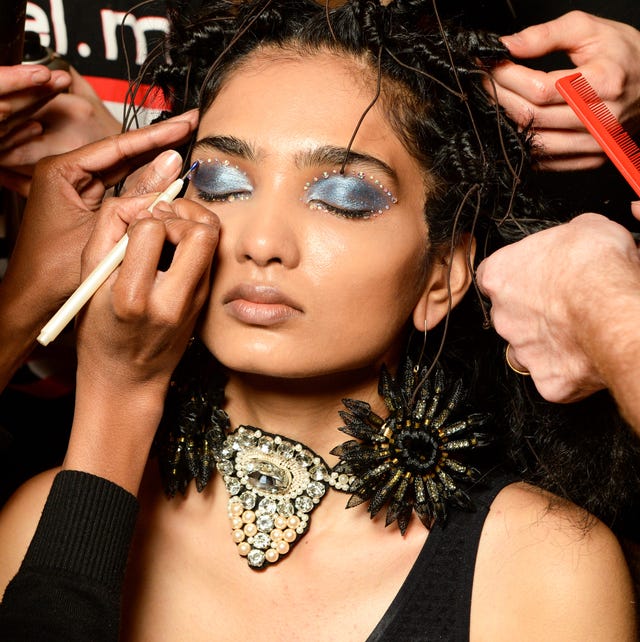 Nicky Sims/BFCGetty Images
Traditionally, April brings showers; however, this year, it's raining marked-down beauty products. It feels like Ulta just had an incredible sale on bestselling items, but now they're back with—if you can believe it—even more deals. And it couldn't come at a better time because while I may be stocked up on fancy new products I've been dying to try, my stack of essentials is running low. From April 8th until April 16th, you can score up to 30% off entire lines of products, not just one shampoo here and there. Whether you need a re-up on serums, moisturizers, hair products, lipsticks, or a top-quality tool, there are so many deals that it's almost hard to choose just one.
Not only are there a lot of products on sale, but these items are some of the best of the best. From iconic bestsellers like SheaMoisture's Curl Enhancing Smoothie, or Neutrogena's fan-favorite hyaluronic acid serum, you'll definitely come out of the sale with a pretty heavy shopping bag–for not much money. And if you're a brand loyalist, odds are that your go-to company is having a sizable brand-wide sale, meaning that every single product from the line is discounted. The sale is correctly named–it's definitely time for a haul. So if you don't want to spend hours online searching for discounted items, we've assembled 17 of the products we'll be buying from iconic skincare products to splurge-worthy steals.
Advertisement – Continue Reading Below
1
Coconut & Hibiscus Curl Enhancing Smoothie
The deal: Calling all curly girls! These sought-after, drooled-over, incredible hair products are all 30% off. Not only can you get this bestselling curl cream, but you can also snag their strengthening shampoo and softening leave-in conditioner for the same discount.
2
Pure Vitamin C Face Serum
The deal: La Roche-Posay's serums, cleansers, and moisturizers are all 20% off. This vitamin C serum is a must-have product for glowing, even skin. You're already stocked up on vitamin C? Maybe their hyaluronic acid serum or intensely hydrating moisturizers are for you.
3
NanoCeramic Curling Iron
The deal: This curling iron is 30% off, meaning you can get perfectly tousled waves for way cheaper than you can get at a salon.
4
Start the Day Beautifully Kit
The deal: The entire EcoTools line is 30% off, including their biodegradable makeup sponges and beautiful eyeshadow brushes. With these products, it's never been easier to get a perfectly blended base, or get all the products you need to finally clean your brush collection.
The deal: Every single product from Fur is currently 30% off. You can grab this Emma Watson-approved oil that soothes any shaved or waxed areas, or you can opt for their super smooth shaving cream, or the brand-new ingrown-fighting serum.
6
Fit Me Matte + Poreless Foundation
The deal: Not only can you get this perfecting matte foundation for 30% off, but fans of the viral foundation powder can also get this for the same discount. Flawless skin at a deal? Sign me up.
7
Foaming Facial Cleanser
The deal: All of CeraVe's cleansers, moisturizers, and serums are a whopping 20% off. This gentle cleanser is a great everyday staple, but anyone with acne-prone skin can opt for their breakout-battling cleanser instead. And if you're feeling a bit dry? Try CeraVe's hyaluronic acid serum, too.
9
Keep It Full Nourishing Lip Plumper
The deal: Are you lips needing a little love? All of Milani's lip products are 30% off, including their classic matte lipsticks and a Dior Lip Oil dupe, too. You're basically guaranteed to get kissed.
10
NANOBLACK 3-In-One Flat Iron
The deal: Whether you want a flat iron for sleek strands, a curling wand, or any of Kristin Ess' top-rated products, you can now buy them all for 30% off. Hair tools rarely go on sale, so now's the time to make the commitment.
11
DetoxifEYE De-Puffing Eye Patches
The deal: Pixi has some of the most cult-followed products on the market, and every single one of them is currently 30% off. If you don't need these wonderful, cooling under-eye patches, maybe you can find love in their bestselling Glow Tonic, or some thickening brow gel.
12
Butter Bronzer Murumuru Butter Bronzer
The deal: From their blushes to their creamy eyeshadows, every product from Physicians Formula is now 30% off. Their buttery bronzer is a bestseller for a reason: It's super blendable and will make your cheeks look chiseled in no time.
13
Venus For Pubic Hair & Skin Razor
The deal: It's never a bad time to stock up on essentials like razors, and every Gillette product is now 25% off. Not only can you buy their top-rated razors, but you can also buy re-fill cartridges or their gentle shaving gel.
14
Hydro Boost Hydrating Serum
The deal: There's a reason why this hydrating serum is a fan-favorite. It's an oil-free product that hydrates almost as well as our favorite moisturizers, without any greasiness. Now, you can get it for 30% off during the sale.
15
Clean It Zero 3-in-1 Cleansing Balm
16
The Nubian Eyeshadow Palette
The deal: Makeup lovers, rejoice! All of Juvia's Place's eye and face products are on sale for 30% off. This includes their creamy eyeshadow palettes, and bestselling concealer. The only eyeshadow product not on sale is their new Culture palette, which is honestly worth the full price.
17
Mario Badescu Glass Bottle Drying Lotion
The deal: Bye-bye, breakouts. Mario Badescu's pimple-vanishing drying lotion is now 25% off. If your skin is currently free of visitors, you can also buy their clean-clearing glycolic acid toner and their refreshing facial sprays for the same discount.
This content is created and maintained by a third party, and imported onto this page to help users provide their email addresses. You may be able to find more information about this and similar content at piano.io
Advertisement – Continue Reading Below