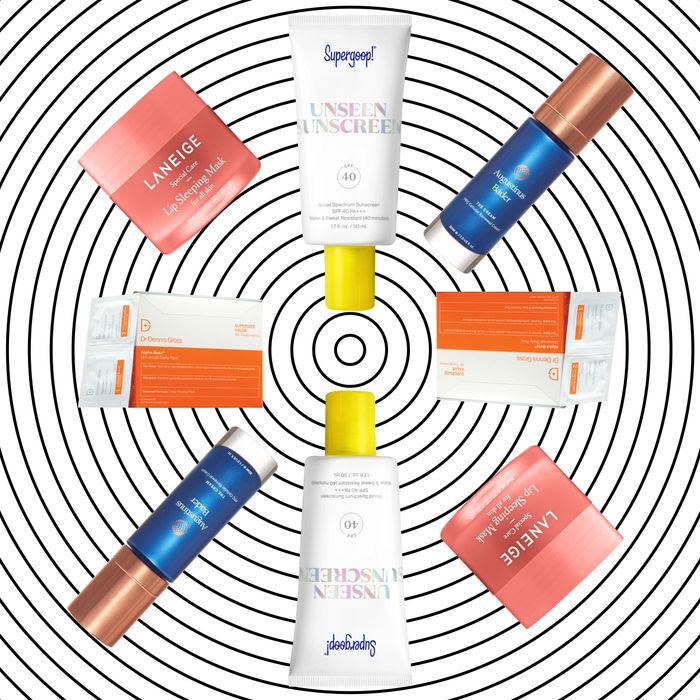 Photo-Illustration: by The Cut; Photos: Retailers
Want more skin care? Join the Beauty Group on Facebook.
Every week on The Cut, we ask one person about the skin-care procedures, tools, and products that they incorporate into their routines — the ones that make people wonder, "Why Is Your Skin So Good?" More than 150 interviews later, we've come to realize that there are some commonalities: Double cleansing appears to be nonnegotiable. Taking care of your skin involves much more than the products you buy at a store, but some do live up to their rave reviews.
Below, we've rounded up the ten most-recommended products in our skin-care series, including a $7 hyaluronic acid, a gentle cleanser that also melts off makeup, and a French toner dubbed the "Jesus in a Bottle." Read on for recommendations from author Jenny Han, comedian Benito Skinner, TikToker Delaney Rowe, actress Laura Harrier, and more.
It has been dubbed the "Jesus in a Bottle" for a reason: P50, from French brand Biologique Recherche, simultaneously tones and exfoliates, leaving skin brighter, reducing blackheads, and shrinking the appearance of pores, according to its many, many fans. It's a favorite among 15 "Why Is Your Skin So Good" contributors, including makeup artist Yacine Diallo, Victoria Beckham's facialist Melanie Grant, and strategic adviser Zara Rahim.
While it smells "so, so bad" — beauty writer Tanya Akim says, "An ex-boyfriend once said P50 smelled like gasoline on my face" — stylist Tina Leung says P50 "is the single product I've seen the most difference in my skin." To All the Boys I've Loved Before author Jenny Han calls it her "miracle product" for giving her "smoother and less patchy" skin.
Rahim says Glossier's Milky Jelly is the only cleanser she feels comfortable using around her eyes, while model Minami Gessel likens it to a more elegant Cetaphil or Cerave. "It smells like a baby — but in a good way. The name really describes the texture; it really is a milky jelly, and it's great to take off everyday makeup, not really so much heavier makeup," she says. "I've tried so many over the years, and I always go back to this one because it's not stripping." Diallo and Soft Services co-founder Rebecca Zhou love it for the same reason.
Photo: Courtesy of Retailer
Augustinus Bader offers two versions of its moisturizer, The Cream and The Rich. Both often appear in "Why Is Your Skin So Good" features. Makeup artist Suzy Gerstein, U beauty founder and "Bag Snob" blogger Tina Craig, MegaBabe founder Katie Sturino, and publicist Andrea Cordova all love the lighter version, while Grant, Skinner, confectioner Maayan Zilberman, Selena actress Christian Serratos, and E! style expert Liliana Vasquez prefer The Rich Cream.
While The Cream and The Rich Cream retail between $85 (for 15 ml) to $265 (for 50 ml), Sturino says of The Cream, "I have actually seen my overall skin quality improve and fine lines decrease. That's not something you can say about every cream on the market. I've been using it for about a year, and trust me, I didn't want to like it." Similarly, Craig says she "panics" when she runs out: "That's how good it is."
Of The Rich Cream, which is best suited for drier skin types, Skinner explains, "Anytime I get compliments, I probably have that on. I use it sparingly for sure. You can make it last if you don't use 12 pumps every night. I wish I could, though — I hope that someday I'll be a 70-year-old man coating my whole ass in it."
The Cut's beauty director Kathleen Hou says double cleansing made the biggest difference with her skin. She explains, "There's no point in spending money on fancy serums if you're going to put them on top of dirty skin. It's like wearing your shoes to bed." Hou, like Ami Colé founder Diarrha N'Diaye-Mbaye and Circumference founder Jina Kim, recommends starting off the practice with Tatcha's Pure One-Step Camellia Cleansing Oil. Makeup artist Carola Gonzalez seconds the recommendation: "It dissolves makeup, any build-up, and gently cleanses the skin without stripping your own natural skin oils."
Delaney Rowe, violinist Ezinma, Comme Si founder Jenni Lee, actress Christine Ko, Olympic gymnast Shawn Johnson East, and Instagram employee and Naked Beauty podcast host Brooke Devard Ozaydinli all swear by Laneige's lip sleeping mask, which is currently available in seven different flavors. Devard Ozaydinli, who likes the vanilla version, says it "totally eliminates any dryness, and you wake up with soft and supple lips." Ko, who prefers the original berry mask, says that other lip masks feel too waxy and cause her lips to peel, but that this one "feels like a smooth protectant barrier that keeps them moist overnight."
Dr. Barbara Sturm's Hyaluronic Acid is certainly expensive — just one ounce goes for $300 — but it's very much worth the cost according to Friend of a Friend podcast host Olivia Perez, social-media consultant Candace Marie, artist Cynthia Cervantes Gumbs, and T.A. New York founder Telsha Anderson. Perez explains that the serum is packed with long- and short-chain hyaluronic molecules that provide long-lasting hydration to the skin. "After using this twice a day, my skin has never been plumper or smoother," she says.
If you're worried about the cost, there is a saving grace. "You literally need only a few drops of this to see a difference," promises Cervantes Gumbs. "When I put it on, it feels like drinking a cold glass of water after a long hot Vinyasa class — refreshing, delicious, rejuvenating. All the things!"
Dr. Dennis Gross's Alpha Beta Universal Daily Peel pads are especially beloved by celebrity facialists Sofie Pavitt, Shani Darden, and Sean Garrette. On her end, Pavitt says she's tried every exfoliator on the market but always returns to Dr. Dennis Gross. "The pads have a combination of five AHA and BHA acids combined with anti-aging actives to gently exfoliate," she explains. "Your skin doesn't actually peel with these pads; the dry top layer of skin is just dissolved, revealing glowing baby skin underneath."
For Starface founder Julie Schott, the pads are the difference "between good skin and meh skin." And even with sensitive skin, says writer Daniela Morosini, "they don't cause any peeling, shedding, or redness."
Singer India Shawn, Shopbop fashion director Caroline Maguire, Rowe, Vasquez, and pop singer Raquel Undheim — better known to her fans as Asukal — all praise Sunday Riley's lactic acid treatment for its ability to combat dark spots and brighten the skin. Undheim believes "this is what has transformed my skin the most and is the main reason why people ask me what my routine is. Ever since I started using this, my skin is bright with an even skin tone, and I've seen lines under my eyes disappear within the same day."