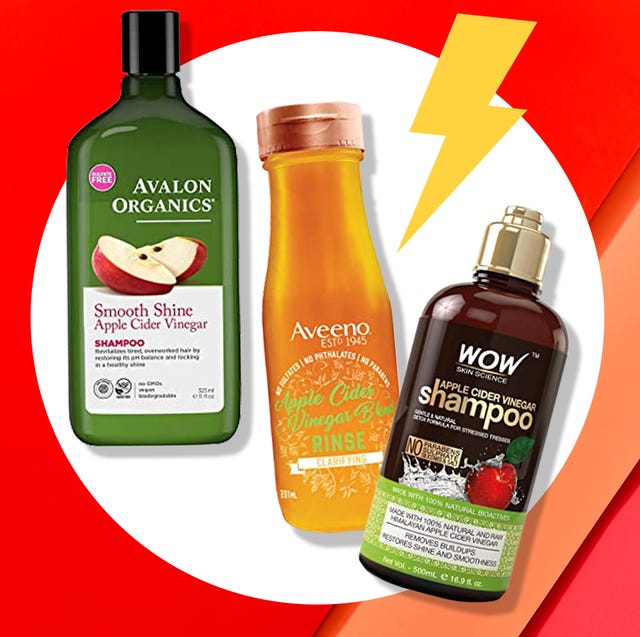 Christine Giordano
You've probably heard about some of the potential health advantages of apple cider vinegar—maybe you even have a bottle in your refrigerator or pantry. But have you considered its beauty benefits, particularly when it comes to your hair and scalp? Turns out this ingredient has a lot to offer in that department, particularly when used as a clarifying rinse or shampoo.
"Apple cider vinegar helps rebalance the hair and scalp pH," says celebrity hair stylist and salon owner Julien Farel, chairman and founder of the Julien Farel Group. "By lowering the pH of your scalp, it helps to strengthen your hair by closing the cuticles and the hair shaft. This makes your hair smoother and easier to detangle, shinier, less frizzy, less prone to breakage, and more moisturized."
In addition to just plain improving the manageability of your mane, apple cider vinegar also holds antifungal properties, which can be beneficial for those with dandruff issues. Rich in vitamins C and B as well as other minerals, apple cider vinegar also contains alpha hydroxy acid, which Farel says gently but effectively exfoliates scalp skin. It's important, however, to not overdo it with an apple cider vinegar-based product, since it can be drying.
According to Farel, apple cider vinegar products are safe for all hair types, including color-treated hair. He suggests looking for as natural and organic of a formula as possible, and plenty of options are available on the market to choose from at various price points. Give one of these picks a try and get ready for the healthier head of hair ACV can bring into your life.
Advertisement – Continue Reading Below
1
Head & Shoulders Apple Cider Vinegar Shampoo
Head & Shoulders
amazon.com
$21.98
This old school, dandruff-fighting formula got a recent reboot with an infusion of clarifying apple cider vinegar meant to target and remove impurities as well as excess oils. If you're looking for a budget, 2-in-1 option, you can't go wrong with this classic shampoo and conditioner. 
2
Avalon Organics Smooth Shine Apple Cider Vinegar Shampoo
Avalon Organics
amazon.com
$49.40
Raw apple cider vinegar, nettle extract, argan oil, and babassu oil combine to calm an itchy scalp and rid hair of leftover product and environmental gunk. Don't be surprised by the lack of lather; this doesn't get super sudsy, but it still gets the job done.
3
OUAI Detox Shampoo
Hit the dry shampoo a little hard this week or just have a naturally greasy scalp? Then it might be worth shelling out the extra bucks for Ouai's Detox shampoo, which contains apple cider vinegar. Use it once a week or a few times a month to reset your tresses. The smell is amazing, and it'll leave your hair feeling fresh, lighter, and silky-soft.
4
WOW Apple Cider Vinegar Shampoo
WOW's sulfate-, paraben-, and silicone-free shampoo is well-suited for any hair type, even hair that's been damaged by color, heat, or smog. You may notice dryness after the first couple of uses, but push through this phase. That's the buildup leaving your hair, unlocking volume and body like you've never experienced before.
5
Shea Moisture Jamaican Black Castor Oil Strengthen & Restore Shampoo w/ Shea Butter, Peppermint, & Apple Cider Vinegar 16.3 fl oz. (482ml) (2 Pack)
SheaMoisture
amazon.com
$21.79
Stock up on this Black-owned brand's restorative cleanser that's specially designed for curlier hair. In addition to ACV, this formula also contains nourishing Jamaican black castor oil, which promotes new hair growth and strengthens the shaft. Peppermint oil counteracts dulling effects, too, and just plain perks your curls up. 
6
Aveeno Apple Cider Vinegar Blend Shampoo
For a clarifying option that won't strip your hair of all its moisture, try Aveeno's apple cider blend. The ACV goes to work on buildup from sweat and other styling products, while oat soothes the scalp and delivers a dose of shine.
7
Renpure Apple Cider Vinegar Shampoo
This plant-forward brand has a whole line of apple cider vinegar-based products centered around this rejuvenating shampoo, which makes quick work of alleviating an itchy, flaky scalp. Users report its effectiveness in hydrating loose, natural hair, locs, and dreads in particular.
8
Made Beautiful PUREifying Rinse
Made Beautiful
walmart.com
$12.62
Consider swapping one or two days of your weekly shampoos with a hair rinse, which goes on like a shampoo but can be less drying. "I really like the PUREifying Rinse by Made Beautiful—it's a unique blend of apple cider vinegar, aloe, and cucumber that helps hair retain moisture and stimulates the scalp," says Farel.
9
ACURE Buildup Balancing Hemp & Apple Cider Vinegar Shampoo
If you're looking for a vegan option or are scent sensitive, ACURE's fragrance-free hemp oil and apple cider vinegar shampoo will be right up your alley. Let the ACV work its clarifying magic on your locks while chamomile and aloe, two other hero ingredients, condition and nourish your scalp.
10
Fekkai Apple Cider Detox Shampoo
After a hiatus of a few years, Fekkai's apple cider shampoo is back with an updated light, fruity scent and a reformulation. The ACV works to gently dissolve flaky skin while salicylic acid balances out oil production, and pomegranate seed oil seals the scalp's skin barrier.
11
Sun Bum Detox Shampoo
Sun Bum
amazon.com
$23.98
Your favorite yummy smelling sunscreen also makes an apple cider vinegar-forward detoxing shampoo that's great for the salty summer months or after a week at the beach. Reviewers rave about how smooth hair felt post-shower—though quite a few said the bottle can be difficult to get product out of.
12
Beauty and the Bees Apple Cider Vinegar Hair Tonic Shampoo Bar
Beauty and the Bees
amazon.com
$14.95
For one of the most eco-friendly options on the market, give an Australian-made Beauty and the Bees bar a go. They're great for travel and full of moisturizing emollients to offset the ACV, including coconut oil and leatherwood beeswax.
13
AG Natural Balance Apple Cider Vinegar Sulfate-Free Shampoo
AG Hair
amazon.com
$65.00
This 98 percent plant-based product is a little splurge-y, but if you can swing it, your scalp will thank you. Organic apple cider vinegar gently deep cleans, closing the hair cuticle for tons of shine, while organic argan oil and aloe vera bring extra moisture to your scalp so hair doesn't feel stripped of its natural moisture. For best results, some users suggested cutting a dollop with water because it's very concentrated.
14
Luseta Apple Cider Vinegar Shampoo
L LUSETA
amazon.com
$17.99
Amazon Prime your way to a squeaky clean scalp with Luseta's ACV shampoo, which is better for oily hair versus drier hair. Just be sure not to overdo it; even hair that's on the greasier side can become brittle with too much of a good thing (in this case, apple cider vinegar).
15
dpHUE Apple Cider Vinegar Dry Shampoo Powder
If you just can't quit your dry shampoo habit, at least choose a product that relies partially upon ACV to remove excess oil without creating much of a buildup of its own. dpHue also has an aerosol version, too, but users note the powder lasts longer and feels lighter.
This content is created and maintained by a third party, and imported onto this page to help users provide their email addresses. You may be able to find more information about this and similar content at piano.io
Advertisement – Continue Reading Below