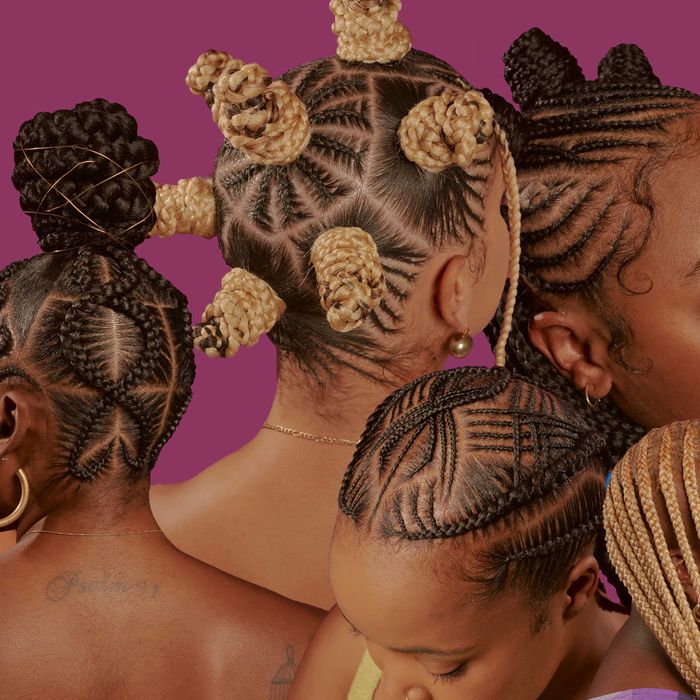 Black Beauty Matters: Celebrating Black excellence and influence in beauty.
The Black hair salon is a sanctified space, with each chair getting its believer closer to goddess-level status, from the wash bowl to the hair dryer to the styling chair. These shops are portals to transformation — equal parts magic and the sweat and toil of the artisans who lather, roll, bump, press, and braid day in, day out, with unparalleled results.
These parlors of beauty and style are also spaces of choice, converting even the most ambivalent and unsure into full-blown sirens simply with a decision pulled from the salon walls. There's no shortage of potential styles to select from blown-up poster collages in full color, fashioned on models who look like you, your mother, and your friends, with a few sightings of our patron saints Beyoncé and Rihanna in all their coiffed Black-girl glory for good measure.
I've reveled in these spaces all my life, from pictures that remind me of the braids I had done right before a childhood graduation to earlier this summer when friends' weddings called for hairstyles that could emanate elegance in the face of New York's subtropical heat and humidity. Over the past year and a half, these salons have been a lifeline when I sought to protect my hair and make it ready for anything, shifting the energy from styling it to carrying on despite a devastating virus and its resulting chaos. I bonded with braiders who were strangers mere hours before about the state of our world and politics, when we all started getting waist-long braids and all the tricks we have for not letting them fall into unsavory places, and relationships, as I definitely hopped out of the chair and headed straight to a marathon date just months ago.
Creating a braiding haven like these that captures the joy of Black hair is Xia Charles's mission. From her heartwarming memories of braiding her grandmother's hair as a child in her native Tobago to teaching the craft to those who wish to impart some happiness of their own in her role as a celebrity hair-braider and educator for Darling hair extensions, Charles is now coming full circle with her new salon, Braided, which opens later this month in Brooklyn. "My intent is to change the way braiding salons are viewed," she tells the Cut. "Perfect bliss always comes to mind when I think about my salon, and this is driven by my passion for always wanting to provide excellent service. I envisioned an upscale space where people can visit for a holistic experience of hair care, relaxation, and rejuvenation. Clients can get their hair treated before being put into a protective style, so it will be like a spa day for your hair." And the space's approach is very much needed, as anyone who frequents braiding salons knows it's often required that you arrive with your hair prepped and ready for styling, which may have required hours of dedication on your own. So a full-service experience will ease that pressure and let the jubilance creep in sooner.
Charles and her cohort are artists, and as you'll see ahead, they also have the gift of quickly being able to dream up and execute styles that capture a person's vibe within minutes of meeting them. Her references oscillate between the legendary hair magazines we all know and love, like Hype Hair, to African tribes whose centuries-old techniques have provided the foundation for the styles we know and love today.
Here, Charles and other braider-and-muse duos explore their love for the craft, some of their earliest braiding memories, the role hair plays in their creative businesses, and more.
Shelby on her earliest hair-braiding memory: "My earliest braiding memory is from when I was about 10 or 11 and my mom's good friend, who was a braider, would come over and braid my younger sister, Chanel, and I's hair in our kitchen. Having our hair braided at the start of every summer so we could go swimming at summer camp and not have to worry about after-care became a ritual. Since then, my sister and I have learned how to braid our own hair. Sometimes she graciously does my braids, and we style our mom's hair every summer now like the good old days. We are so thankful for each other and the craft."
Xia on what inspired her career in braiding: "I grew up in the countryside of Tobago, and around the age of 4, when my grandmother would come home from a hard day of work, she'd lie on the floor at the front door of the house, and I would climb on her back and braid her hair. Looking back, I now see that this was our time to bond and my earliest steps toward the braiding craft that my family already knew so well. My mom was known for braiding numerous people's hair in the village, so I have fond memories of my sisters giving me these bomb hairstyles every Sunday before I went to school on Monday. I've carried that knowledge through to the present moment, teaching others the art and helping them develop their style as an educator. It feels like a full-circle moment."
Moses on hair as pride and protest: "My style is an act of rebellion against the homophobic and transphobic views consistently found in many Black and African communities, and my braids aid in that rebellion. My gender identity has nothing to do with the way that I choose to style my hair. Fuck gender norms. My braids are so important to me because they are my way of embracing my Nigerian culture and my queerness in a world that does not want to see both together. My braids are a reflection of my roots as an African, but they are also a reflection of my queerness."
Rachael on her journey to natural hair: "My journey to natural hair started in 2014 when I fell in love with my hair's beautiful textures and its versatility. I love that with protective styles, you can choose to switch it up with different looks while caring for your hair at the same time. Now, I'm imparting that wisdom to my children and teaching them to love their hair, because they're gorgeous just the way they are.
Ntombi on how she expresses herself through her hair: "I am constantly changing my hair, and it's a really uplifting process for me. New personas are always brought to light through a fresh hairstyle, and that helps to inspire how I move through society. My Black experience and how I decorate myself visually introduces me before I say a word. We are a stylish community of people, and our ever-changing hair is a testament to that."
Krissie-Ann on how she learns new styles: "I continue to evolve in my craft and learn new hairstyles by constantly challenging myself to master what's trending and styles that are outside the box. A quick glimpse of something or someone could give me the inspiration that spurs me to visualize how that image would look in the form of a hairstyle or a look that would fit a personality or mood that I am trying to depict. The process of piecing together the how gives me the opportunity to assimilate the techniques required to bring the style to life."
Earleen on one thing she'd tell her younger self about her hair: "I'd tell my younger self ​​to never compromise the self-acceptance of her natural hair for the sake of others. Growing up, I would try to tame my natural curly 'fro for the sake of job interviews and getting boys to like me more. Before the modern-day natural-hair movement kicked off, I would refrain from wearing my natural hair to fit Eurocentric beauty standards, which were difficult to unlearn. Dating a boy who preferred my hair straightened over curly, and feeling like I needed to slick my hair back into a bun for interviews to appear 'more professional,' was more of a them thing than a me thing."
Natalia on the longest time she has ever spent on one style: "I'm usually very meticulous when it comes to braiding, so I sometimes take a bit longer on styles naturally. The longest I've spent on a style is around 13 hours! I was doing human-hair locs, and it was my first time doing the style. I always loved locs, so I decided to attempt them with the knowledge that I'd attained from YouTube university. The pieces of hair were so fine given that it was human hair, and the entire process was incredibly tedious. There were so many different steps to this one style that I thought it would never end! The end result was so beautiful, though, and the client loved it, so it was all worth it."
Narlyn on the biggest lesson learned about her hair this year: "As a child, my hair was always curly or twisted, but as I grew into my adolescence and preteen years, my hair was constantly straight or in a press-and-curl. This last year, my hair has lost most of its heat training, so my natural curls are usually flowing or my hair's in a slick bun lately. I don't really think about straightening my hair anymore unless I'm attending an event, though now it won't last as long because my curls don't want to be tamed under heat. I honestly never even really believed heat training was a thing until I got my juicy curls back. I still have an alter ego with my hair straight, for sure, and it's funny that I'd always felt like my hair being straight was when I felt the sexiest. Now, I definitely feel sexier just being my natural self."
Meagan on what Black hair spaces mean to her: "The salon is a home away from home where you can relax, ask any question you want in a judgment-free zone, express how you feel, and get the advice you've been needing. It's a family that you look forward to catching up with whenever you come back for your next appointment. It's love."